What Does a Fire Stick Look Like?
The Fire TV stick is about 3 inches long and plugs into the side HDMI on your TV. It looks similar to a memory stick. The Fire TV stick also comes with a remote control unit, and both devices have a simple, sleek appearance.
What Comes With the Fire Stick?
When you purchase a Fire TV Stick from Amazon, you receive several things in the box. These include the following:
2 AAA Batteries
HDMI Extender
USB Cable
Fire TV Stick Lite
Power Adapter
Alexa Voice Remote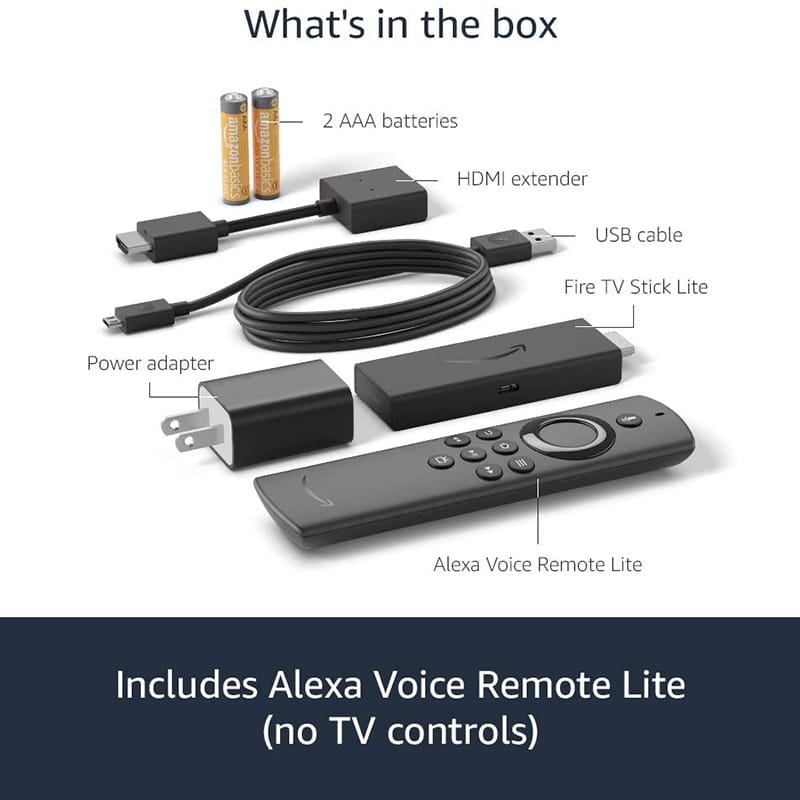 How Do You Use a Fire Stick?
The Fire TV Stick is produced by Amazon and used for streaming entertainment services – TV shows, movies, subscription services, music, photos, and games. The Firestick allows you to store your favorite content and use it with different TVs. It is great to have when traveling or going on vacation.
1 GB of memory
8 GB of internal storage
Optional Voice Storage
Dual-band, dual-antenna Wi-Fi
Dedicated Video Core4 GPU
Amazon Prime Users receive their Fire TV Stick pre-registered. You can immediately access all Amazon Prime content when you plug the Fire Stick into the HDMI port.
How the Fire Stick Works
Once you plug your Fire Stick into your HDMI TV via the USB port, the Fire Stick connects via Wi-Fi. The Fire Stick also comes with a Bluetooth remote. Once the Stick has connected, users are directed through the set-up process and prompted to sign into their Amazon Account, where they can access all of their content.
You can access any music or videos purchased through your Amazon account and have views and pictures stored on your Amazon Cloud Service. In addition, the Fire Stick is a repository for many other types of content.
Netflix App
Games
YouTube
HBO Now
ESPN
Hulu
A big advantage of the Fire Stick is that you can access the content you want (using whatever subscription services you already have) instead of being locked into an inflated cable package. You can pick and choose the content you are interested in using.
The Fire Stick is a central repository for all of your content. Once logged on, you will have access to any music and videos purchased through your Amazon account. Also, you can view any pictures uploaded to your Amazon Cloud service.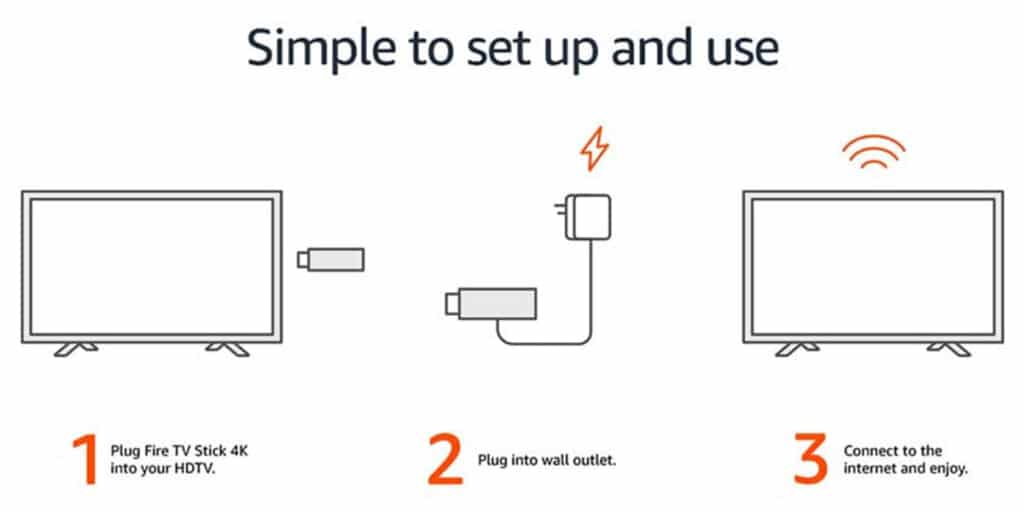 Fire TV Stick vs. Fire TV
In addition to the Firestick, Amazon also offers a Fire TV. The products offer the same services, and both come equipped with a Bluetooth remote, but the Fire TV allows you to upgrade to more robust features.
Size: The Fire TV Stick is three inches long and plugs into your TV. Fire TV is a separate square console that is about four and a half inches long on each side.
Cost: The First Stick is less expensive and costs $39.99 while the Fire TV costs $99.
Speed: The Fire Stick provides 1 GB of RAM, while the Fire TV offers 2 GB of RAM, making the Fire TV more responsive. If you're a gamer, you probably want the Fire TV for faster loading speed.
Additional ports and storage: The Fire TV Stick does not have options for expansion. The Fire TV console has a USB port, Ethernet port, and microSD slot. This makes it easier to store and access the content.
Capabilities: The Fire TV stick is capable of 1080p of streaming. The Fire TV allows 4K of streaming. The Fire TV might be a better option since TVs are moving towards 4K. The 1080p option Fire Stick is still fine for whatever option you choose.
Why You Should Consider the Fire Stick
Watching TV and choosing content is becoming more and more complicated. The Fire Stick keeps watching what you want simple. A large selection of the content you want is all found with one device, and when you decide to go somewhere else, you can take your content with you.
Now you don't have to figure out a new TV every time you stay in a hotel or Air BnB, made even worse if there is Satellite TV with its hundreds of channels to scroll through as you try to figure out what is on every channel.
I don't know how many times I have stayed in a hotel and spent hours scrolling through TV Stations with no titles or captions trying to find something I like to watch. Often I'm limited to the hand full of stations provided or to a fuzzy satellite screen.
Advantages of the Fire Stick
One other advantage of the Fire Stick is Amazon Alexa Voice. You can use Alexa's Voice Control to make the selections you want. If you don't want the added expense of Alexa, though, you can download the free Fire TV Remote App and use your phone's voice features to make your choices.
Finally, a cool advantage of the Firestick is that it learns. The Stick uses your choices to anticipate what you might want to watch and make suggestions. The Fire TV Stick uses ASAP or Advanced Streaming and Prediction to make programming suggestions for you.
FAQ
Is there a monthly fee for the Fire Stick?
There is no monthly fee for the Fire Stick, but you will still need to pay subscription services you already have like Apple Plus or Netflix.
What Channels Do You Get with the Fire Stick?
You probably get most of your favorite channels – Apple Plus, Netflix, NBC, CBS, ABC, Disney Plus, Amazon Prime, etc.
Do You Need a Smart Stick with a Smart TV?
You don't have to have a Smart Stick with your Smart TV, but depending on the Operating System Your Smart TV is using, you may get more channels with the Fire Stick.
Do I Need WIFI to use the Fire Stick?
Yes
Related Posts
(Visited 359 times, 1 visits today)