Electric Bikes have surged onto the market in recent years and finally, come into their own. As cities become more crowded and people begin to focus on low-impact sustainability, the shift to e-bikes is exploding.
With the explosion in choices comes an increase in prices, but you don't have to break the bank. For many people, e-bikes are meant to provide a healthy hobby.
There are many good quality, moderately priced e-bikes to choose from in today's market.
This article describes e-bikes and explains what to look for before you purchase your electric bike.
What Does an Electric Bike Look Like?
Electric bikes or e-bikes vary in their appearance. For example, there are street bikes, mountain bikes, foldable bikes, short bikes, fat bikes, European bikes, etc.
The bike's look often depends on how it is being used – on-road, off-road, performance, etc.
In many cases, the look of the bike is up to your personal preference. This is because there are that many choices!
How Does an Electic Bike Work?
An electric bike handles similarly to a traditional bike. In most cases, the electric power is meant to support or complement the rider and not completely replace the riders' efforts.
There are several components.
Motor – Design and location is important. More on this below.
Battery – SLA or Lithium. Lithium is much more efficient with a longer life, but more expensive.
Controller – Regulates power with throttles and pedal-activated systems.
An electric bike is straightforward to operate. You charge a battery that powers the motor, and you control your power with the controller, either via pedals or the throttle.
Types of Electric Bikes
E-Road Bikes – Offer more of a traditional "bike feel." Often used by a more casual rider.
E-Hybrid Bikes – If you need quick starts or don't want to exhert a lot of energy when commuting.
E-Mountain Bikes – Provide the most torque and power for off-road riding.
Classes of Electric Bikes
Class 1 – Motor only engages when pedaling and stops at 20-mph.
Class 2 – Pedal assist up to 20-mph plus a pure power mode.
Class 3 – Completely pedal assist until 28-mph.
Tips for Choosing an E-Bike
Below are numerous points to consider when purchasing an e-bike and narrowing down your choices.
Your Needs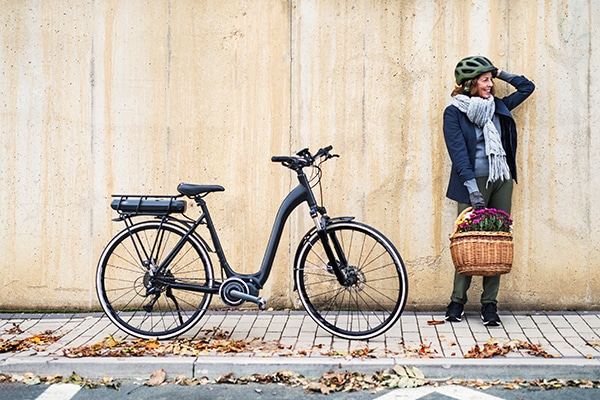 Deciding on the type of bike you need often depends on how you choose to use it.
Are you going to be off-road, climbing hills, and requiring a lot of torque to assist you when pedaling?
Will you need to accelerate quickly from a stop in traffic or potentially or travel with little effort? You can also choose folding e-bikes if you need mobility.
Do you want to use your e-bike like more of a traditional bicycle with that "road feeling?"
Motor Placement
There are two traditional types of motor placement – hub-driven and mid-drive.
Hub-Driven Motor – The motor sits in the hub. This style of motor is often found in less expensive, more traditional-looking electric bikes.
Mid-Drive Motors – These motors are located low and at the center of the bike. They are often found in higher-performance bikes. This allows for more efficient bikes, working closely with the bike's gears.
Torque
Torque is what gives your e-bike its power. The less torque or surge provided, the more natural the ride of the bike.
An electric bike at the low end of torque may provide 35 – 40Nm of torque.
An e-bike at the top of the performance range may provide up to 55 – 75Nm of torque. This would be a mountain or gravel e-bike.
Cadence
You don't hear cadence discussed too often, but it is important. First, you need to determine if the inline power provided by the e-bike is in line with how you operate or pedal the bike.
Make sure you test bikes before you decide and decide which one feels the most natural for you.
Battery Capacity
Capacity is essential. Typically, the larger and heavier the battery, the greater the capacity.
Capacity is stated in watt-hours (Wh) or the number of watts that can be sustained in an hour.
Mountain e-bikes are where you will find larger batteries. Not only do they need to provide more power or torque, but you typically need more range.
Fortunately, these performance bikes are lighter, and the riders provide more exertion, so the batteries last longer.
Resistance
Resistance is why you must test your e-bike and make sure it works for you.
Is it easy to pedal above a certain speed? Is the pedaling frictionless?
If you want an e-bike with a more natural feel, make sure you pay attention to the friction as you test ride bikes.
Reviews and Feedback
There are numerous resources available when purchasing an e-bike.
Whether you are looking for a moderately priced e-bike on Amazon or a high-end commuter bike from REI, make sure you look at the reviews for the bikes you review.
Batteries
Make sure you use reputable battery manufacturers. This can really extend the cycles of life of your battery.
There are actually several battery considerations.
Charge Time – 3-5 hours is normal. You may need a back-up battery or faster charger depending on how far you plan to ride.
Batteries Needed – Will you need a back up or extra battery?
Battery Location – Internal batteries are more convenient but less flexible. It is easier to access and charge and external battery.
Accessories
Although there are many accessories provided with electric bikes, make sure you consider these.
Lights
Racks for carrying loads
Displays
Phone/App Integration
Security/Locks
Warranty & Service
E-Bike warranties vary, kind of like the Electric Bike industry itself. They range from 1-10 years and range by components.
You can have separate warranties for the frame, motor, batteries, and other components, so check the warranty closely.
Other points to check when reading the warranty include the following:
Freight – Some pay and some don't if you have to return components. This can be expensive.
Registratation – If you don't register your e-bike in 30 days the warranty may be voided.
Service – Not servicing your bike at clearly laid out intervals may void the warranty.
Replacment Parts – These may have much shorter warranty terms or not be covered.
The Best Electric Bikes
Electric bikes have stormed the market, and there are numerous choices. However, unless you are using the bike daily for commuting, there are many moderately priced bikes.
Final Thoughts
Whether you are purchasing an e-bike to commute or to tour the neighborhood casually, there is a wide range of choices.
If you use your bike daily and plan to invest a large sum, make sure you read reviews and ride the bike first. Finding a good electric bike dealer is worth its weight in gold so take your time.
If you decide to purchase your bike online, check reviews and ask questions. There is plenty of information available to make an informed decision.
Related Posts
(Visited 98 times, 1 visits today)